9 different theme labels included in every box.
Available May 1st!
"Scottish Whiskey Liqueur" is the direct descendants of the drinks made from blending herbs and honey with whiskies which may have been a little to characteristic to be drunk on their own.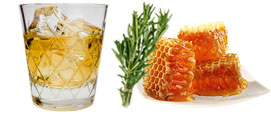 Ingredients: Glucose solids, natural and/or artificial flavour, activated carbon, yeast nutrients, potassium carbonate, yeast, bentonite, citric acid, finings, potassium sorbate, caramel powder.
Net Weight: 400 grams